I'll tell you one thing that it is...
It is a perfect example as to why a Flir i7  should not be used for building applications.
Sorry!
Here is what your scan really looks like: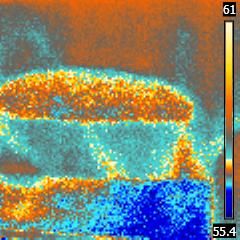 It appears to be associated with a thermal bypass.
The sensitivity and spatial resolution of the camera is insufficient to confirm this but there is no other visible evidence to the contrary.
Where are the HVAC air-conditioning registers located (if there are any)?